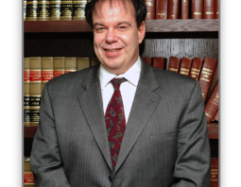 Richard R. Mannausa,,
obtained his Bachelor of Arts degree from the University of Michigan, Ann Arbor.  That same year, Mr. Mannausa enrolled in Wayne State University Law School, where he obtained his Juris Doctorate.
After law school, Mr. Mannausa worked for a number of litigation firms, including Lopatin, Miller, a prominent personal injury firm. Mr. Mannausa has continuously practiced law since 1986 and is admitted to practice in all of the courts in the State of Michigan, including the Michigan Supreme Court. In addition, Mr. Mannausa practices in all of the federal districts in the State of Michigan. For years, Mr. Mannausa has been a member of both the national and local trial lawyer associations, including the Michigan Association of Justice. He also participates in a 700 attorney Listserv, sharing his experience with attorneys all over the state.  Because of his experience and expertise, the Wayne County Circuit Court has appointed Mr. Mannausa to mediate, or evaluate, scores of cases every year.  My. Mannausa has resolved a number of cases in excess of $1 million, including a 2016 settlement for $1.25 million.